The Essential CNC Tube and Pipe Plasma Cutting Machine
The Dragon A400 CNC tube and pipe plasma cutter easily marks and engraves on tube and pipe to make CAD/CAM designs a reality. 
Fabricate any design with holes and end cuts

Mark all bending locations, rotations, and degrees on the tube

Time-saving tool for tube and pipe processes

Industry leader with over 1,000 machines in the field
Proudly made in the USA
Schedule a Virtual Demo to see your parts come to life.
Bend-Tech offers a number of add-ons to increase throughput.
The Coolant Support System allows for:
Operators to cut longer parts faster while maintaining safety standards
An increased heat exchange rate to make handling cut parts near instantaneous
Rigid sidewalls and splash guards to contain fluids and prevent spills
Maintaining material centerline with non-marring, durable Teflon® supports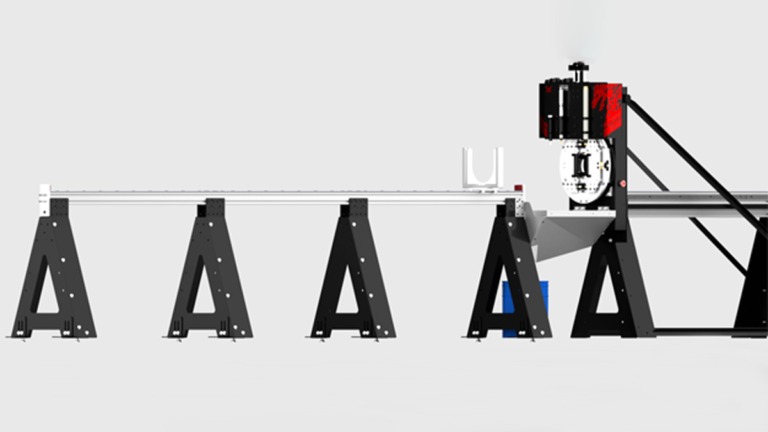 The Dry-End Support System allows for:
Easy and safely loading and unloading longer materials
Quick release for fast change between material sizes
Maintain material centerline 
Comes with non-marring, high-durability Teflon® supports
The level of plasma system required varies based on multiple factors involving the materials being cut.
To best decide what level of plasma system is required, talk to a Bend-Tech Sales Person.

The material coolant system increases cut quality and reduces slag amount and fumes from plasma cutting.
Companies that cut aluminum, stainless steel, or tubing with a small OD are encouraged to include a material coolant system in their purchase.

Angle/Channel Motorized Gate
The angle/channel motorized gate add-on provides the A400 the ability to accurately cut any part out of angle and channel profile material while still cutting round, square, and rectangle material profiles.
This is an add-on option and is not standard on the Dragon A400.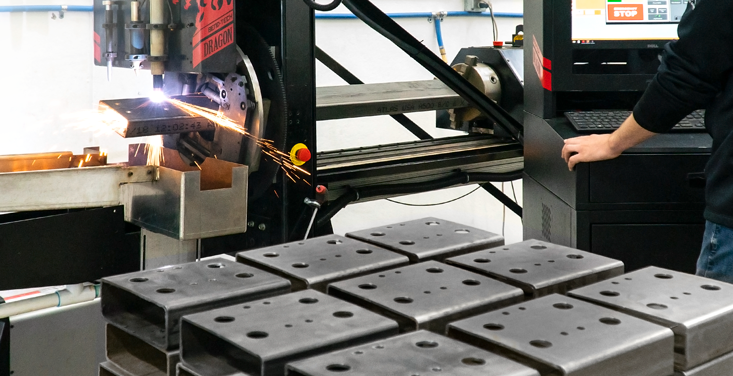 Improving the Bottom Line
Production time is up to five times faster by using Bend-Tech's Dragon A400 CNC tube and pipe plasma cutter. The CNC automation minimizes errors in production, wasted time, and materials.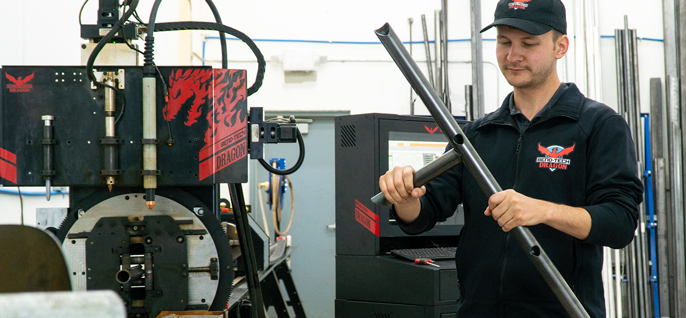 Increase Efficiency and Accuracy with CNC Automation
The parts produced by the Dragon A400 CNC tube and pipe plasma  cutting machine fit up as intended, removing the need for the time-consuming process of manually fitting tube.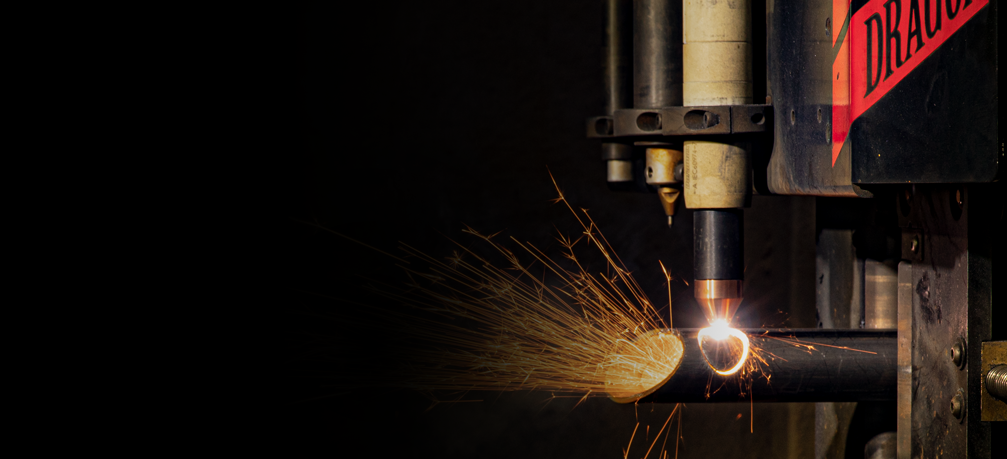 The Dragon A400 plasma torch is a fast and accurate method of cutting without the high cost of a laser. When cutting under the appropriate conditions, parts are weld-ready immediately after cutting. 
Bend-Tech can provide a sample package or benchmark of your parts to demonstrate the efficiency and accuracy of CNC plasma cutting.
Built to Handle Your Material

Steel
Stainless Steel
Galvanized Steel
Aluminum
Black Pipe
Chrome Alloy
Any type of electrically conductive metal

Round: 0.75 inch (19mm) – 6 inch (152.4mm)
Square: 1 inch (25.4mm) – 4 inch (101.6mm)
Rectangle: 1 inch (25.4mm) – 4 inch (101.6mm)

Max hypotenuse: 6.375 inch, e.g. 6 inch by 2 inch and 5 inch by 3 inch

Angle: 1 inch (25.4mm) – 4 inch (101.6mm)
Channel: 1 inch (25.4mm) – 4 inch (101.6mm)

A standard Dragon A400 handles full 24 ft. (7.31m) length material.
Custom machine lengths are available for material that is 40+ feet (12.2 m)
The chuck has a pass through ability for round material with a 2 inch or less OD to accommodate longer than standard pieces.

Material Weight & Thickness
Maximum capacity of 400 lbs (181.4kg)
1/32 inch (0.79mm) – 5/8 inch (15.8mm)
Machines Designed for Software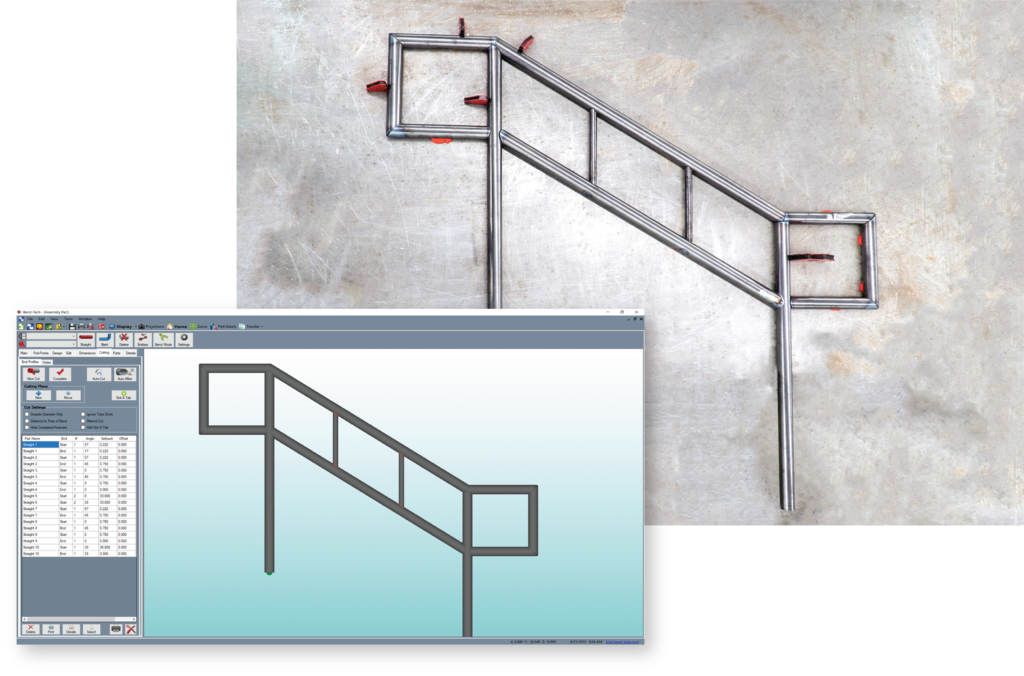 Design to Production Made Easy with Bend-Tech CAD & CAM Software
The Bend-Tech Software is an essential part of what makes the Dragon A400 the best plasma cutter in the market. Used by over 27,000 fabricators, it increases efficiency and decreases waste.
Every Dragon comes standard with the powerful Bend-Tech Dragon Software.
See the ease of use and quick learning curve with a live demo of the Dragon Software.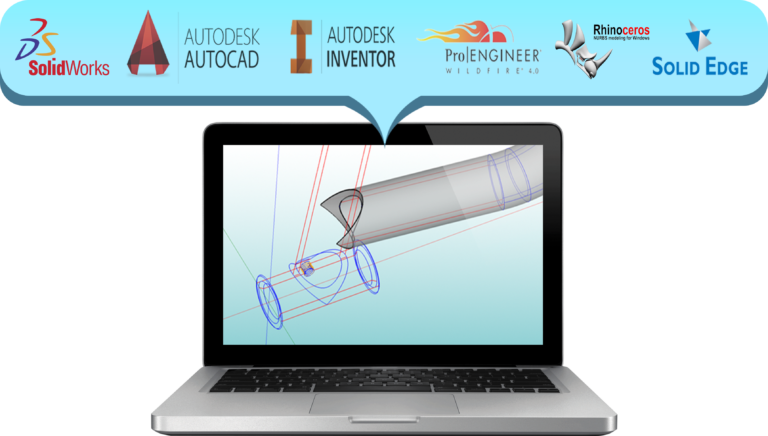 Import 3D Parts or Design From Scratch
The Dragon CAD imports STEP and IGES files that are supported by most CAD software, such as Solidworks, Tekla, SDS2, AutoCAD, ProEngineer, and more. Once imported, the Dragon software will trace the CAD geometry and convert it into a CAM-ready file. This process normalizes along the cut path for a weld-ready part. The CAM-ready file is read by the Dragon A400 for CNC production.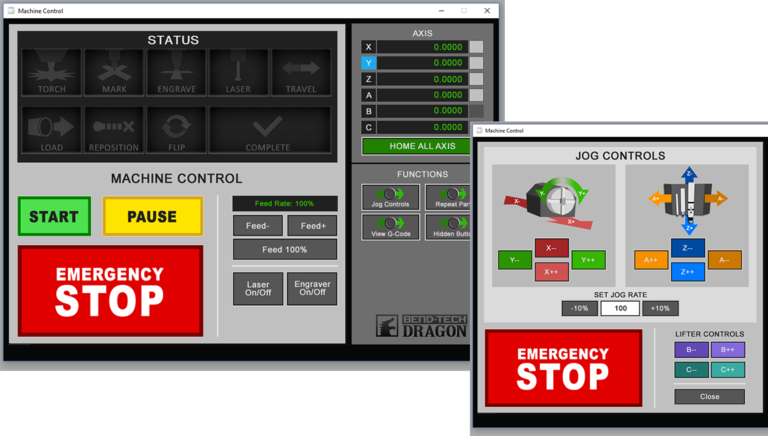 The Dragon software gives full control of the Dragon machine to its operator. The operator can move all axes, control the speed, and start or stop the job when needed. 
The G-Code viewer is available to see each action in detail. With the click of a button, homing the machine is easy.
Do More with an Automatic Tool Changer
The Dragon A400 can utilize four different tools during the production process to ensure quality parts and easy assembly.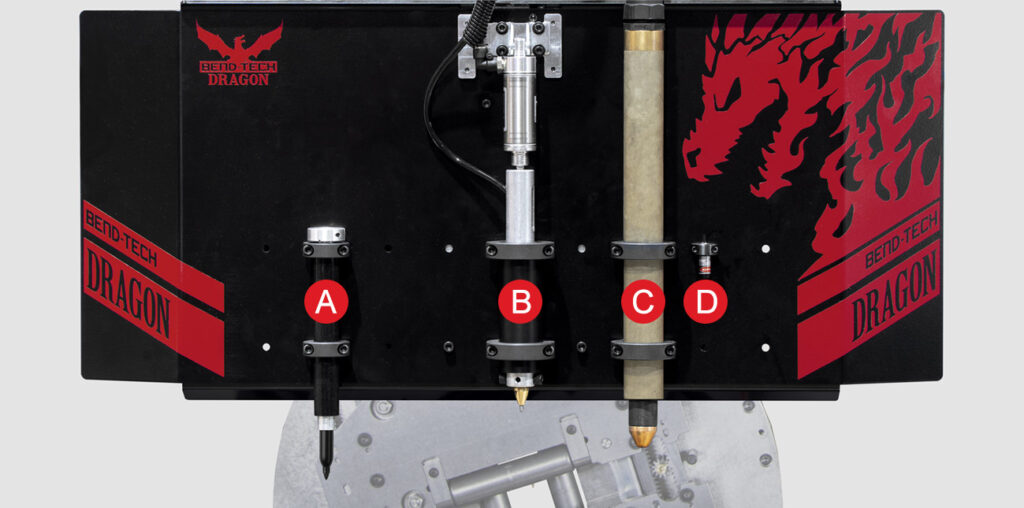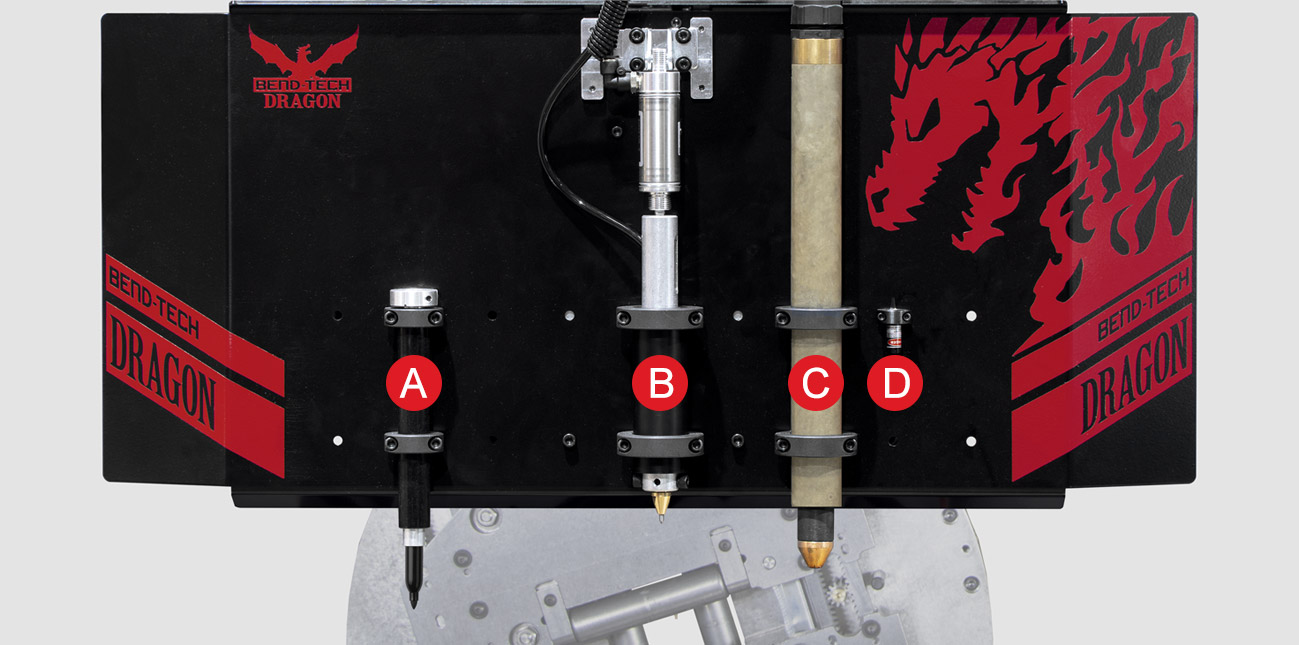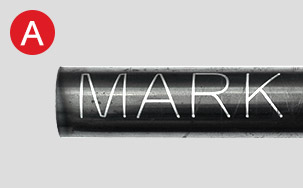 The marker is commonly used for bend location, bend rotation, saddle fitment marks, part number/i.d., text, and more.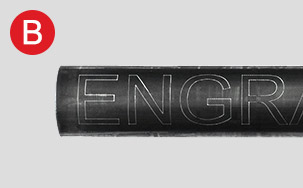 The engraver is commonly used for bend location, bend rotation, saddle fitment marks, part number/i.d., text, and more.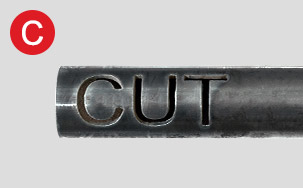 The plasma torch cuts all profiles and holes into the tube.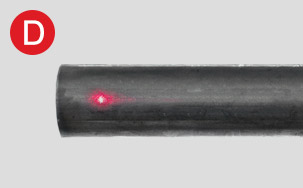 The laser light gives an accurate lineup to start every job with accuracy.
Quick and Easy Loading Process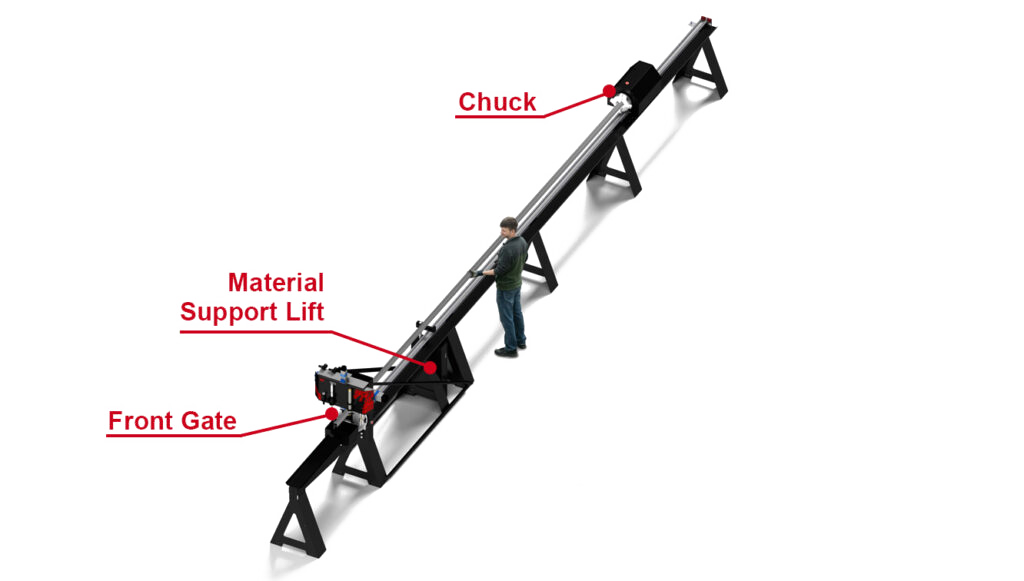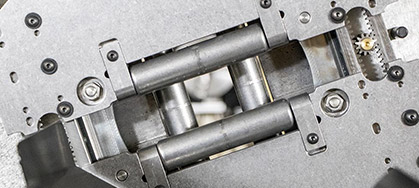 The front gate has two adjustable self-centering vice-like jaws that can secure tubes up to 400 lbs. These jaws hold their position, which allows the operator to run the same size of a tube without having to adjust the gate with every new stick.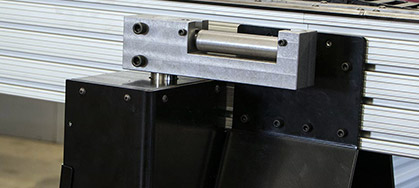 The automation of the material support lift keeps the material level for accurate cutting. The material support helps hold full-length material during the loading process.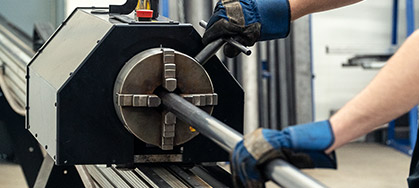 The chuck has four self-centering jaws for easy loading and securely holding material for accurate part production.
Increase Production Output With Full Automation
Bend-Tech's A400 Dragon CNC tube and pipe plasma  cutter allows for a faster process, allowing for a greater bottom line. Parts drop in a single location with the fixed toolhead, creating an efficient production workflow.

Provides accurate side to side and up/down movements of the toolhead and its tools.
Works in unison with the Y-axis to rotate the material.
*Optional feature
Ensures that long pieces of material maintain being level throughout the cutting process.
Works in unison with the C-axis to rotate the material.
A precision rack and anti-backlash pinion drive system moves the material along its length.
Excellence in Customer Support
The Bend-Tech Dragon Customer Support department is an in-house team that persists in helping the customer until the problem is resolved.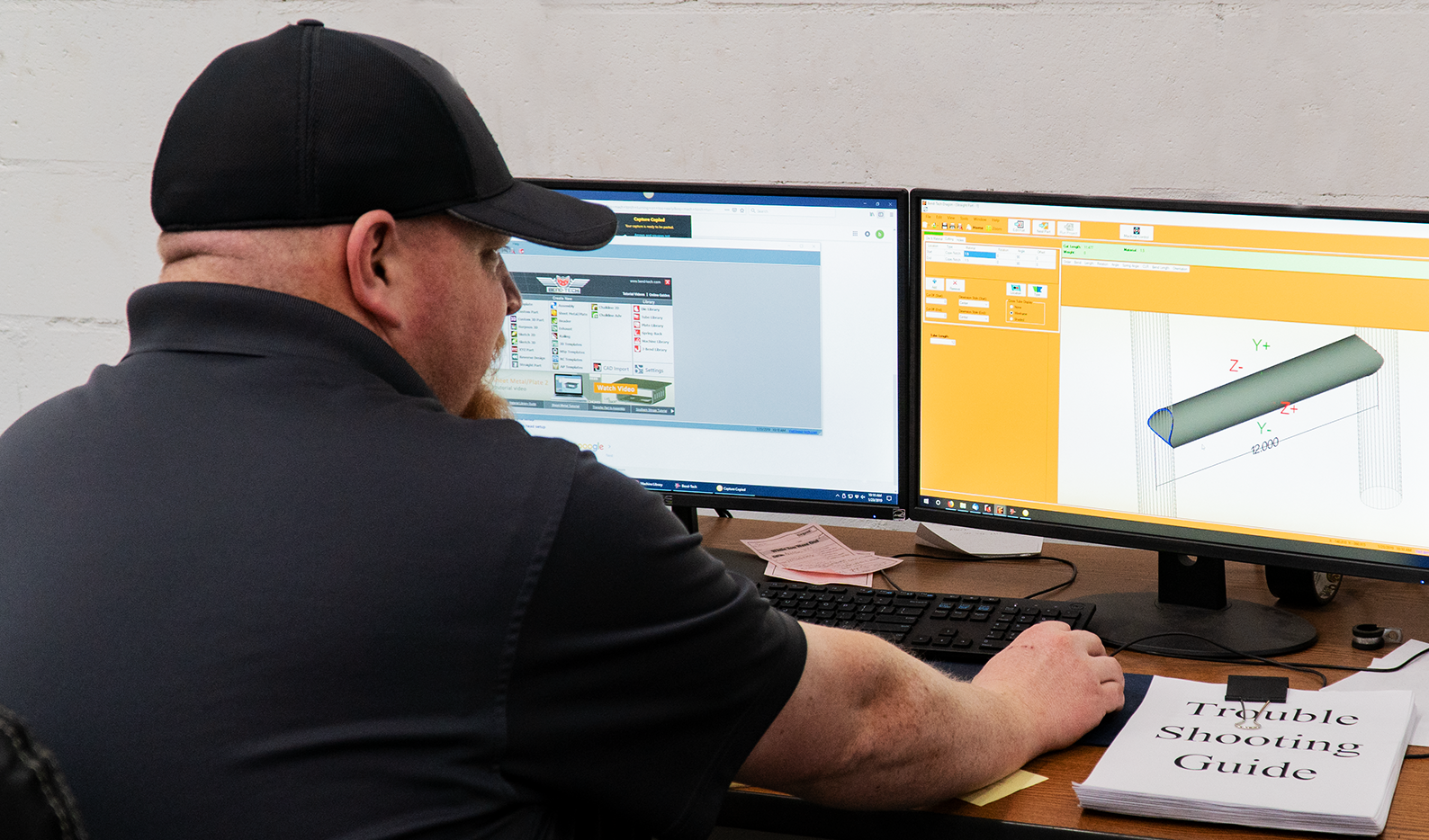 The Bend-Tech Dragon A400 is fully supported. For many companies, contacting the support staff can take time, be frustrating, and slow down your shop's production. When you call Bend-Tech support, a Dragon Technician will answer during our hours of operation. The Bend-Tech support staff is made up of thoroughly trained Dragon Technicians that focus on minimizing any down time in your shop's production. Our customer support is available over the phone and via email during the regular business hours of 8 AM to 4 PM (CST) Monday through Friday. If your Dragon needs in-person help, contact Bend-Tech to schedule and purchase an in-person shop visit from a Dragon Technician.
Select an option below or fill out the form to get in touch
Request More Information on the Dragon A400