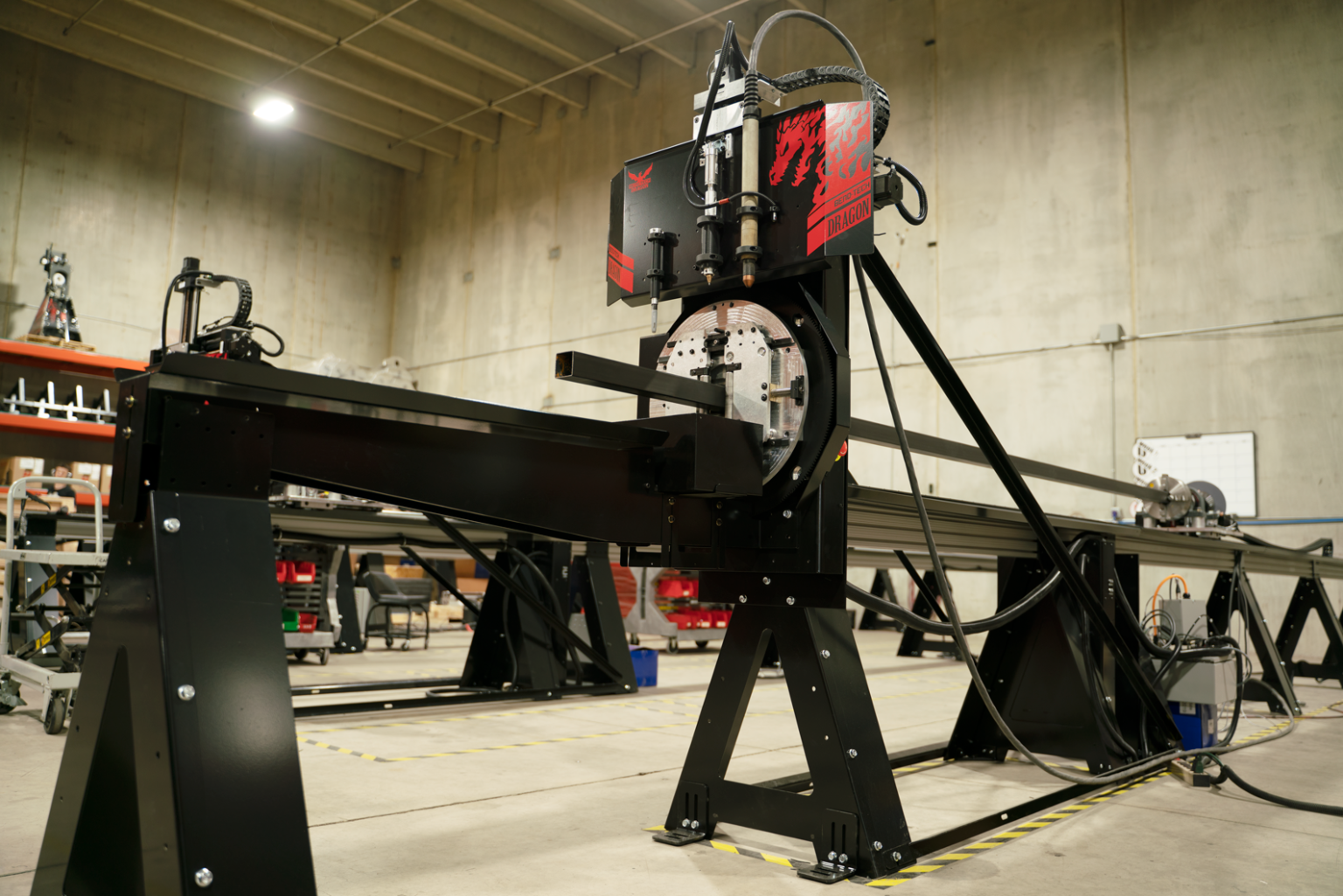 Bend-Tech's Dragon line of CNC plasma cutters brings all the capabilities of our CAD/CAM software solutions to life. The two models are the A400 or A250, which cut, mark, engrave, and align. Despite some key differences, both systems make processing your tubes and pipes more efficient.
With two different models to select from, it's important to consider what you're processing, what your current needs are, and what you're looking for in a solution before you determine which Bend-Tech machine is right for you. Taking these three things into account, let's explore the if the A400 or A250 suits your situation better:
Made for What You Make
While both plasma cutters are equipped to handle the same electrically conductive metals, the material shapes and sizes that each respective machine can process vary. Our A250 is a round-only CNC tube and pipe plasma cutter with a maximum of 4" outside diameter, whereas our A400 has the ability to cut round, rectangular, square, angle, and channel materials. On top of additional shapes, the A400 is also equipped to handle materials up to 4" (non-round) to 6" (round) in outside diameter. The weight capacity for a standard A250 maxes out at 260 pounds, while its A400 counterpart holds up to 400.
Without the help of add-ons, the material length capacity for each machine also varies. Standard A250s can handle up to 21 ft. in material, while the A400 supports 24 ft. However, our newest addition, the Coolant Support System (CSS), provides additional support for longer, heavier material, allowing you to safely and conveniently adapt for longer tube and pipe when needed.
Depending on what you are currently or looking to process, knowing what materials your machine can handle is important information to have prior to investing in the machine that will handle your business' operations.
The A400 or A250 – Both Help You Meet Your Goals
You know what you're cutting, and we know how to help you cut it. Depending on the jobs or projects your business is running, our Bend-Tech sales team can help you determine if the A400 or A250 is the better solutions for your applications.
If you're in the automotive industry and primarily produce roll cages, chassis, or bumpers, you may find that our A250 model is the smarter choice. With its round-only focus, you can streamline your operations and increase the volume of output with a product meant to support your automation.
Our A400 is best for handling anything beyond smaller, round materials. If you're in the miscellaneous metals market, this machine is the right one for you. However, there are plenty of software and physical add-ons that will further optimize your experience with the machine.
If you are getting your best design results with third-party CAD software, we provide plugins to integrate your existing designs with our machines. Our CAD helps you import outside files, and then traces their geometry to convert it into a CAM-ready file. If you're manufacturing angle or channel material, we provide upgrade features to help you motorize the front gate for processing purposes.
Solution-Oriented CNC Plasma Cutting
Since the beginning, Bend-Tech has been a solution-oriented company innovating around the market's needs and helping explore the possibilities for going above and beyond everyday operations. Bend-Tech began as a software engineering company to innovate the way tubes and pipes are fabricated with CAD/CAM software. Following the need for a more industrial machine that could not only execute the software's capabilities, but one that could process larger materials, the Dragon CNC plasma cutter line was created.
Ultimately, our goal is to help you find the solution that makes sense for your process. Whether you're looking to be more profitable and efficient, or to grow your company and bring versatility to your operations, let's do it together. Looking for a personalized opinion on which of our Dragon models best suits you? Contact our sales team, and we'll get started.