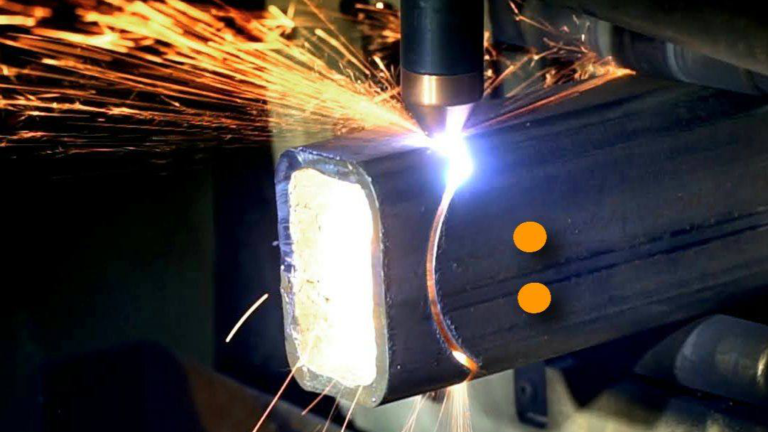 Plasma cutting machines are among the most accurate, efficient, and versatile tools for tube and pipe processing. They are ideal for cutting a range of metals such as steel, aluminum, copper, and brass. Plasma cutters provide benefits for structural steel fabricators, manufacturers, and hobbyists. Here are four reasons why you should consider investing in a plasma cutting machine.
1. Material Versatility
Plasma cutting machines are capable of handling a diverse range of materials. As long as the material is conductive—like steel, copper, and iron—plasma systems will cut and engrave with ease.

For example, our Dragon A400 can handle an array of material shapes and sizes, from round to rectangle, with a material size range of 0.75 to 4.00 inches. Plasma cutters not only cut through the entirety of your material but can cut shapes into the material in one pass. This is a clear advantage from t from saws which ate require a secondary operation.

Plasma cutting machines also work well with reflective materials such as gold, copper, and stainless steel. This is because they use the thermal cutting method, which means it uses heat to melt the metal. Laser cutters, on the other hand, don't work well with reflective material. The beam often gets deflected, which can result in quality or safety issues.
2. Accuracy and Cut Quality
Plasma cutters can make clean, accurate cuts, even on the most complex of shapes. This is ideal for just about any application.

The plasma arc's heat is one of the most accurate methods for achieving precision cuts in tubes and pipes, especially for processing parts that will be easily welded together. With a mechanical cutting system, such as a saw, materials tend to thin at the edges. A thinner edge tends to evaporate during the welding which causes issues. Plasma cutters offer a clean edge with a consistent thickness promoting a better weld.
3. Ease of Use
All cutting systems require training. Plasma systems, in general, are no more difficult to use than other cutting systems. Laser cutting machines often require significantly more training and experience to operate than plasma systems.

Bend-Tech Dragon plasma cutters are designed to be intuitive and have a flatter learning curve than other machines of similar capability. Integrated software and a material support lift, with the option to add custom machine lengths that support material over 40 feet long, means our machines make any job easier. Bend-Tech offers on-site training sessions to help you run your plasma system with ease.
4. Price
One of the greatest benefits to owning a plasma cutting machine is how cost-effective it is. The initial investment for a plasma cutter is not only less than a laser cutter but the day-to-day operations can be completed at a fraction of the cost. For example, the electrical operating cost of a plasma cutter is estimated to be under $3/hour, whereas the average laser can run up to hundreds of dollars in the same timeframe. The average operating cost of a plasma cutter comes in at $8/hour or less for both electric and consumables.

Consumables are also budget-friendly when you work with plasma; you can expect to spend about a tenth of the cost with a Bend-Tech Dragon as you would when replacing consumables for a laser.

Ultimately, the decision of whether to buy a plasma cutter depends on your specific needs and requirements. With similar capabilities to other types of machines, plasma cutting machines have one of the most appealing price tags on the market. For anyone who needs to cut thicker materials, plasma cutting machines are cost-effective and get the job done every time.