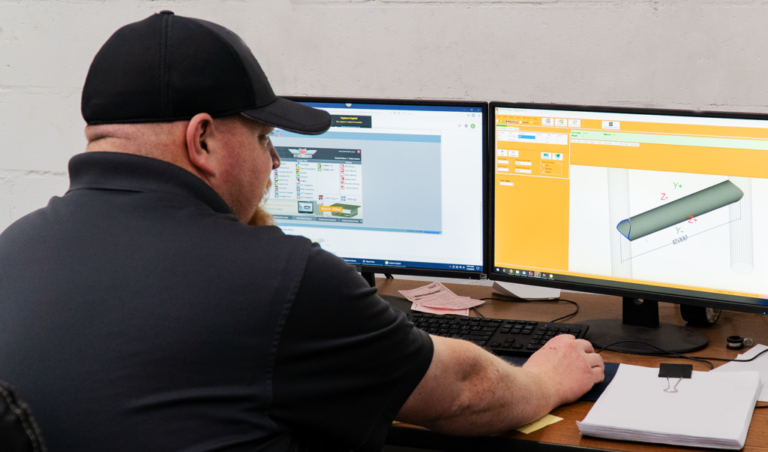 Using the right software for your CNC tube and pipe plasma cutting machine is crucial to fast and accurate fabrication. The role of software is to instruct the hardware and remove human error, which means that your machine can only work as well as the software that runs it. For 20 years, Bend-Tech has been working to make our software both powerful and intuitive for these reasons. With both CAD and CAM in one program, as well as the easy integration to other software and hardware, Bend-Tech is a cut above the rest. Here is how our software makes production smooth from design to finished part:
A Two-In-One Solution
Unlike other software, Bend-Tech does not require a third-party program for design. By having CAD built into our CAM software, Bend-Tech's software programs offer solutions for all of your design and fabrication needs.
With CAD assembly, you can design from scratch and fabricate roll cages, handrails, and more without the hassle of transferring files between software programs. You can also store your designs with ease so that they are accurate and efficient when repeated. 3D Templates are also available for quick, easy production for common cuts and designs.
If you prefer to use a third-party CAD program, your designs can be easily transferred to Bend-Tech's CAM software. Compatible programs include Tekla, SDS2, Solidworks, and more. Once imported, the Bend-Tech software will convert CAD geometry into CAM-ready files ready for production.
Machines Designed for Software
Beginning as a software solutions company, Bend-Tech has been making improvements to produce the best tube and pipe design and manufacturing software on the market.
This means that the Dragon A400 and A250 were designed specifically to complement our software and execute all of its capabilities. Bend-Tech software, when coupled with our machines, gives full control of the machine to its operator. All axes and speeds can be used to their fullest, and homing the machine is as simple as the click of a button.
Complex Made Easy
With dozens of predefined templates, designing and manufacturing tubes and pipes has never been easier. When working with Bend-Tech's Sketch and Custom Part 3D Designers, Automatic calculations help you visualize every angle and achieve exactly what you set out to accomplish.
The learning curve for our software is quicker than most; with resources on both our website and YouTube channel, and a company that has been dedicated to simplifying their software for two decades, machinists can be designing and manufacturing parts in a matter of days.
With the purchase of a Bend-Tech Dragon A400 or A250, we offer training at either our headquarters or yours, so that you or your team can master both the software and hardware in no time. Following these classes, our in-house customer support team is fully trained and ready to answer any questions you have.
Interested in learning more? Contact us to request a demo.