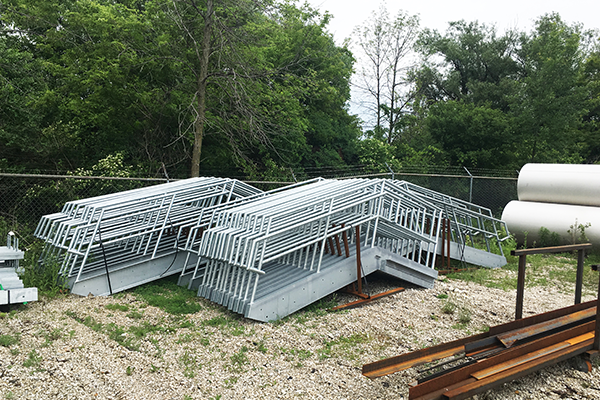 When it comes to handrail fabrication, you want to make sure all of the necessary steps are easy and streamlined. Difficulties with working from initial design to final product; the multiple processes required with a standard CNC plasma cutter; and poor material fit up are all factors that contribute to longer lead times and lower quality.
For over twenty years, Bend-Tech has been working to evolve our software and machines into the most versatile and capable products on the market. In fact, our customers report that on average their handrail production time is three times faster than before using our combination of machine and software. If you're a handrail manufacturer, here are just some of the ways the Bend-Tech Dragon product line can help you climb above the competition:
Designed for Your Designs
The Bend-Tech Dragon software suite is one of the most user-friendly on the market for handrail fabrication. On top of allowing designers to start from scratch, it has a number of handrail templates for design starting points that allow for customization. Got a tricky space you need to visualize? The Dragon's CAD software lets you design handrails and visualize them in 3D.
If you are already using third-party CAD software, you can import your designs to the Bend-Tech Dragon platform with ease. Bend-Tech's software is designed to be compatible with Solidworks, Tekla, SDS2, and more. After importing, Bend-Tech's CAM program will trace your CAD geometry and convert it into a CAM-ready file. The software's auto-nest capabilities will cut out the manual blueprinting and measurements to allow you to begin cutting.
Cutting Down the Lead Times
If you're at all familiar with Bend-Tech A400 CNC plasma cutting machines, then you already know that this versatile piece of equipment can cut, mark, engrave, and align all in one capable machine. Both the Dragon A250 and A400 can help with part identification, material fit-up locations, bending information, and more to save you the time it would take to do these things manually.
With the newest Bend-Tech add-on, the Coolant Support System, you can also handle cut material faster. The system's coolant increases heat exchange rates and allows the Dragon operator to cut longer parts while still maintaining safety standards and reducing spills.
Fit to Fit Up
The Bend-Tech Dragon's plasma cutting technology has enhanced fit-up capabilities; by measuring the full thickness of your material, the Dragon maintains these measurements fully around the cut. Thanks to the new Coolant Support System, the amount of dross and slag is reduced even more, meaning less cleanup required (and less waste!) prior to any needed welding.
Interested in how the Bend-Tech Dragon product line and software suite can help you level-up your handrail fabrication? Schedule a software demo, or reach out to a team member to learn more!