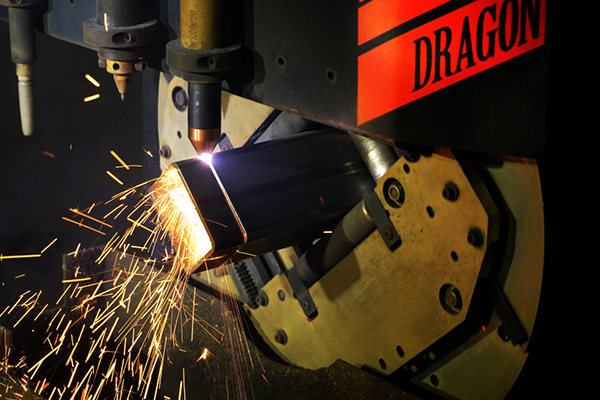 There are many cutting technologies available when it comes to tube and pipe processing, but depending on the job, it may not be obvious which one is right for your operations. The most common options on the market are laser, saw, and plasma.
The materials, shapes, and sizes you work with are important factors to consider when determining which type of cutting method will work best for you. Each system can work with a variety of tube and pipe styles, but no one system can do it all. Another factor to consider is your budget. Upfront sticker price, operational expense, and replacement part costs all vary dramatically.
Which Cutting Technologies Can Handle Your Material?
Unfortunately, lasers aren't laser-proof. The laser cutter's biggest material limitation is its inability to safely cut reflective materials, such as fiberglass or aluminum, without damaging itself or its surroundings. Other materials are unsafe to cut with laser because of their chemical makeup and the dangerous gases or dust they create. Such materials include leather, PVC, and any material containing halogens. Lasers are also discouraged for any thin or heat-sensitive materials prone to warping.
Good, old-fashioned circular blade saws can handle most materials and shapes, but stability issues make it difficult to cut thin, flat material, or anything with smaller internal diameters. These blades also have more difficulty with the intricate and complex cuts that laser and plasma navigate with ease. Dross and slag buildup is common with a cold cutting method like sawing, resulting in additional clean-up before parts can be welded.
Plasma cutters work best with conductive metals that become part of their electric current. These materials include steel, aluminum, and more. Depending on the system and its add-ons, CNC plasma cutters should have no trouble accommodating the most common shapes and sizes (length and width) used by metal fabrication shops. Coolant support is encouraged to reduce dross and slag and keep a uniform cut around the diameter of the tube or pipe.
The Cost to Cut: Beyond a Sticker Price
The initial costs of certain systems may seem more appealing than their counterparts, but it's important to consider the cost of running the machines and replacing consumables before making any investments.
Laser cutters have the largest price tag upfront, with better quality systems starting at $500,000. Consumables include nozzles, tips, lenses, gases, and more, and often cost in the thousands of dollars to replace. These machines also require specialized gear, including a safety enclosure around the system, and personal safety items to help shield operators from noise, glare, and gas.
The energy needed to run a high-powered laser is another operating cost to consider; industrial laser efficiency can range from 5-45%, and energy costs average $20/hour. However, lasers run at high speed, so they are more time-friendly than their manual counterparts especially when it comes to more complex cuts.
Saws are by far the least expensive option of the three. Average metal-cutting saws often stay within three to four figures, and any additional consumables trend toward the same prices. They require some safety gear, but nothing as specialized as its counterparts.
Saws run on electricity, but they are ultimately a cold cutting method; energy costs will be low for saw operation. Saws, however, have longer production times when making complex cuts and accounting for the dross and slag clean up prior to welding.
Plasma cutters land between lasers and saws on initial price and operating costs.. These systems start around $5,000, but the highest quality machines can be upwards to $50,000 after add-ons and consumables are considered. Consumables for plasma cutters include nozzles and tips, and depending on the quality, can range in price. Operators are encouraged to wear eye protection, but the arc does not require the same shielding as lasers.
Similar to laser, plasma requires energy to produce heat and cut tube or pipe. The differences are in the efficiency and average operating costs of the plasma cutter. Plasma cutters do not consume as much energy as lasers and cut at similar speeds, making them more efficient. Per hour, plasma cutters average between $8-15 to operate.
Which Cutting Technology is Right for You?
Deciding which cutting technology is right for your operation is no easy task. Between laser, plasma, and saw cutting, there are a number of pros and cons that companies and shops have to consider before purchasing and implementing a system. We'd be happy to discuss how our Bend-Tech's plasma cutters system could fit within your operations.